On Tuesday, January 22nd, Otis Keys from the Harlem Globetrotters performed at an assembly at Winchell Elementary. Otis spoke to the children about life skills and performed for them in the gymnasium. He even taught four children how to do some of their own Globetrotter moves.
I included this in my "Diversity in the School Environment" section because I feel that positive role models and enrichment experiences are as much a part of education as sitting in a classroom.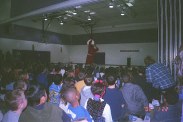 Here Otis is throwing a basketball over his head. He held his assembly in the school gym.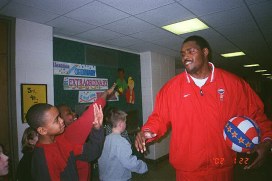 A few of my students share a moment with Otis after the show.